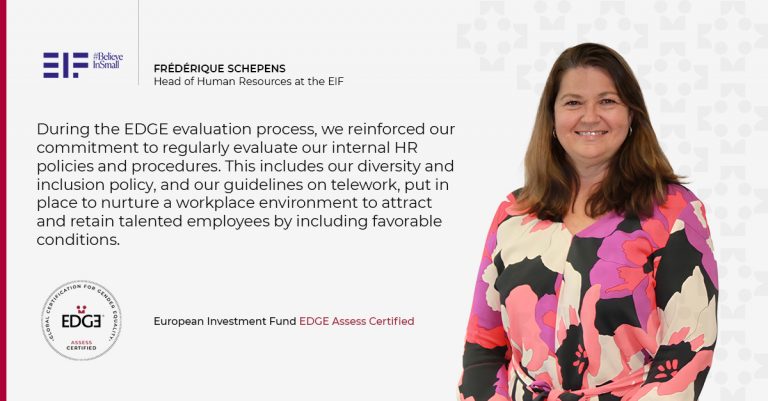 EDGE certification brings visibility and credibility to the change happening inside the organization. At the same time, it creates the premises for diverse talent to thrive at work. Tell us some stories about how your employees benefit from the EDGE certification journey of your organization.
Frédérique Schepens: During the EDGE evaluation process, we reinforced our commitment to regularly evaluate our internal HR policies and procedures. This includes our diversity and inclusion policy, and our guidelines on telework, put in place to nurture a workplace environment to attract and retain talented employees by including favorable conditions such as encouraged parental leave, flexible working conditions etc.
In 2021, our HR department contracted the services of KPMG Luxembourg to execute a remuneration survey. In addition, we are dedicated to conduct yearly gender pay gap assessments which cover base salaries, awards and other cash benefits using the regression analysis and under the responsibility of the HR department who will also proactively communicate on the EIF's commitment to ensure gender pay equity. The next assessment is planned for 2022.
In 2022, we will also be launching a training on unconscious bias, organized in three separate sessions: a session for HR, a session for management staff, and a session for all staff.
What do you think workplace gender balance, diversity and inclusion mean to the next generation (e.g., leaders/ customers/ investors …)?
Frédérique Schepens: Our diverse workforce has been one of EIF's essential assets since its establishment in 1994 and is a reflection of our own modus operandi. Unlike other EU institutions, EIF's objectives are both market- and policy-driven. EIF manages resources on behalf of public institutions like the European Commission or the European Investment Bank. At the same time, EIF pursues public policy with a market-oriented strategy, investing pari-passu with private investors and seeking a positive return. This type of hybrid nature calls for a diverse workforce including a variety of profiles that can meet the multifaceted requirements of EIF's mission.
For any leader, a substantial diversity and inclusion strategy will lead to a broader talent pool of candidates. An inclusive workplace will help to decrease turnover, and help increase the satisfaction and commitment of their teams.
For customers/investors there is more than just a reputational aspect, working with an organisation where diversity is shown as key provides our investors with multiple creative viewpoints and perspectives, allowing us to find new and improved ways to accommodate their needs.