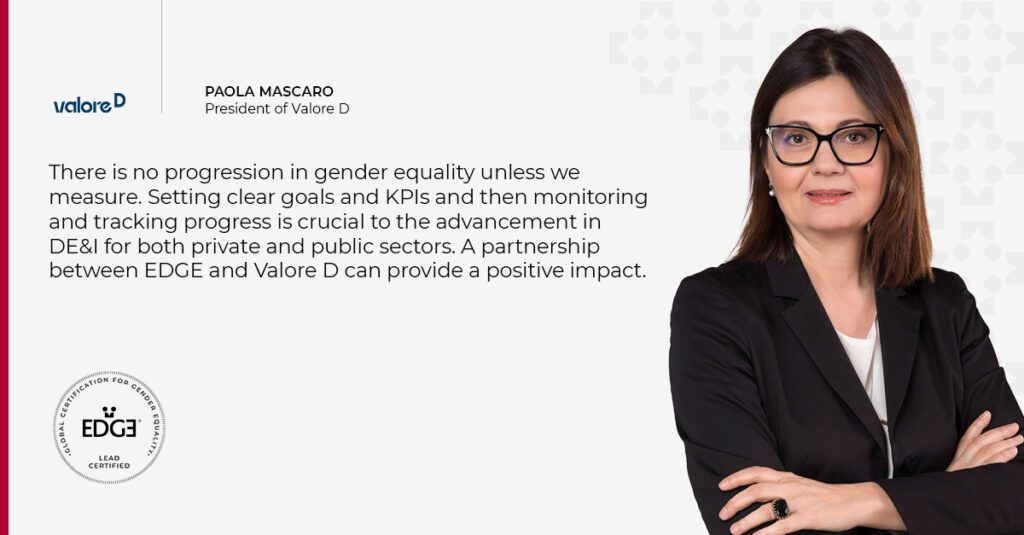 Valore D and EDGE are proud to announce a new partnership established to monitor DE&I within the Italian corporate world and accelerate workplace equity nationally. This announcement comes at the conclusion of Italy's G20 presidency, whose focus on people, planet and prosperity included a targeted assessment of gender in the workplace and in society at large.
Both Valore D and EDGE have a successful track-record in empowering organizations to turn diversity into a major asset. With over 270 member companies in Italy and a highly active programme and network, Valore D is the leading diversity-focused association in Italy committed to building a professional world without discrimination and in which gender equity and the culture of inclusion supports innovation, progress and growth of organizations and of the country.
EDGE provides the leading solution for organizations to measure, accelerate and get certified on where they stand in gender and intersectional equity and works with over 200 prestigious companies and organizations globally.
Companies with greater diversity face up to market challenges more effectively. To support companies, Valore D has developed a concrete tool, the Inclusion Impact Index®, which measures the effectiveness of a company's diversity and inclusion policies starting from the impact in four macro-areas: governance, ability to attract, development, and retainment, so to enhance female talent over time.
"There is no progression in gender equality unless we measure", comments Paola Mascaro, President of Valore D. "Setting clear goals and KPIs and then monitoring and tracking progress is crucial to the advancement in DE&I for both private and public sectors. As indicated by the G20 Empower – the Alliance for the Empowerment and Progression of Women's Economic Representation – measuring to improve, building and nourishing an efficient and sustainable women talent pipeline, and enabling women to lead the future are key points to closing the workplace gender gap in the private sector. A partnership between EDGE and Valore D can provide a positive impact and the potential for acceleration in all three of these areas."
"The partnership with ValoreD strengthens our presence in Italy in a time where both the public institutions as well as private sector have voiced their commitment to women's economic empowerment in the country.", says Simona Scarpaleggia, Co-CEO of EDGE Strategy." At EDGE we are proud to support organizations by providing them with insights and concrete solutions to improve DE&I and thrive – both in terms of employee experience and business impact. Through this partnership organizations that participate in the Valore D Inclusion Impact Index® will be fast-tracked to deepen and accelerate their DE&I journey with EDGE's robust analytical framework and independent third-party certification system."
The importance of partnership in support of the G20 Empower initiative is clear right now: it's time to act to reshape organizations to become truly diverse, equitable and inclusive, as well as to contribute toward a more sustainable and humanistic economy.
For further information on today's announcement please contact our communications teams:
Press office Valore D
Paola Trotta
[email protected]
+39 3791551887
Ariel Mafai Giorgi
[email protected]
+39 3356489445
Press office EDGE
Silene Stoppa
[email protected]
+41 41 530 11 49
Valore D is the first association of companies in Italy, over 270 to date, which for more than 10 years has been committed to building a professional world without discrimination, in which gender equality and the culture of inclusion support the innovation, progress and growth of organizations and of our country. Valore D supports companies by providing know-how and effective tools for a Diversity & Inclusion strategy, and offers the opportunity for inter-company dialogue thanks to the exchange of good practices and continuous dialogue between the members, Valore D is a reference point for institutions and a promoter of actions for social and economic development. of the country.
EDGE Strategy
EDGE Strategy offers an integrated SaaS-based DE&I solution allowing organizations to measure, accelerate and get certified for where they stand in terms of gender and intersectional equity. EDGE's customer base consists of 200 large organizations in 44 countries across five continents, representing 29 different industries.